Scholarship Fundraising Goal: $2500.00
Grace Children's Center wants to provide care for all families, regardless of their income. We are please to partner with a variety of organizations including Working Connections Childcare, Childcare Resource and Referral's Homeless Program, the Muckleshoot, and King County Assitance Programs. However, there are families that still struggle at times to pay the childcare tuition. We would like to offer families scholarships to help when they are in need.
Playground Fundraising Goal: $2500.00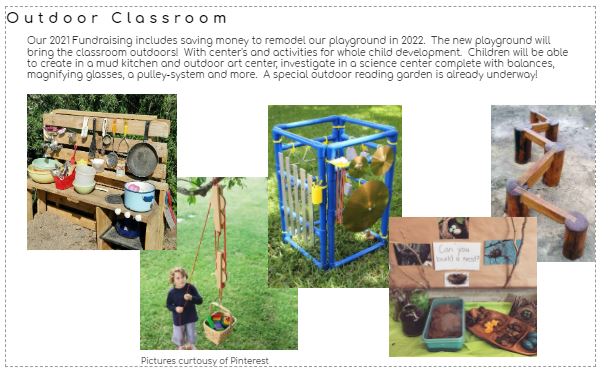 In 2022 we would like to turn our playground into an outdoor classroom, complete with dramatic play, science, manipulatives, areas for gross motor development and lots of playful learning and exploration. We will be raising funds for this throughout 2021. More pictures and plans are on their way!